30
01
2012
MIT's Hugh Herr demonstrates the latest generation of robotic ankles… which he wears on both of his legs!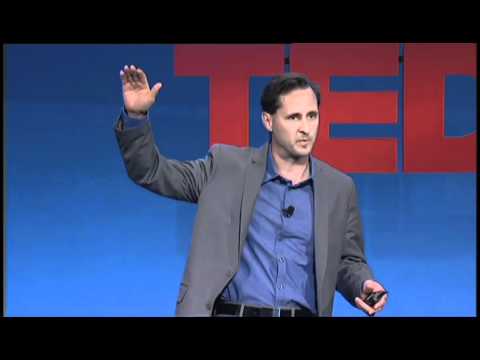 HUGH HERR
ATHLETE, SCIENTIST, INNOVATOR, FUTURIST. MIT MEDIA LAB
By age 17, Hugh was considered a rock climbing prodigy. Media coverage of his extraordinary athletic accomplishments heralded him as one of the best climbers in the United States. In January 1982, while attempting to summit Mount Washington in New Hampshire, Hugh and a fellow climber were caught in a blizzard and stranded on the mountain for three nights in -20F degree temperatures. By the time they were rescued, the climbers had suffered severe frostbite. Both of Hugh's legs were amputated below the knees. Following months of surgeries and rehabilitation, Hugh was doing what doctors had believed unthinkable: climbing again. Using prostheses that he designed, Hugh climbed at a more advanced level than he had before the accident, making him the first person in history with a major amputation to compete at an elite level against persons with normal physiologies.

After his climbing career, Hugh pursued academics. Hugh is currently director of the Biomechatronics research group at the MIT Media Lab where he focuses on developing wearable robotic systems that serve to augment human strength, endurance and agility. Hugh has advanced novel bionic technologies, including a computer-controlled artificial knee, an active ankle-foot orthosis, and the world's first powered ankle-foot prosthesis. These devices are advancing an emerging field of engineering science that applies principles of biomechanics and neural control to guide the designs of human rehabilitation and augmentative devices. The computer-controlled knee, which is outfitted with a microprocessor that continually senses the joint's position and the loads applied to the limb, was named to the list of Top Ten Inventions in the health category by TIME magazine in 2004. The robotic ankle-foot prosthesis, which emulates the action of a biological leg and, for the first time, provides amputees with a natural gait, was named to the same TIME top-ten list in 2007. Also in 2007, Hugh was presented with the 13th Annual Heinz Award for Technology, the Economy and Employment. Hugh's story has been told by Alison Osius in Second Ascent, The Story of Hugh Herr, a Discovery Channel feature story, and in a National Geographic movie, Ascent: The Story of Hugh Herr.
Ted.com [en línea] New York (USA): ted.com, 30 de enero de 2012 [ref. diciembre de 2010] Disponible en Internet:
 http://www.tedmed.com/videos-info?name=Hugh_Herr_at_TEDMED_2010&q=updated&year=all
Comments :
Sin Comentarios »
Categorias :
Artículos de Innovación y Salud de la prensa